Past Webinars
Interested in viewing one of our previous webinars? You can access each monthly webinar by clicking on the videos below!
Our 2018 Webinar Series can be found here.
---
February
Meetings That Do More
This webinar was hosted by Beth Tener of New Directions Collaborative. Imagine leaving a meeting feeling inspired, energized by new ideas, with enhanced goodwill toward your colleagues and a shared sense of clarity on where to go next. Key topics included:
How to clarify the strategic context and range of outcomes for a meeting
How to frame strategic questions for the group to explore
An introduction to, and experience of, participatory meeting methods that can also work on-line
How to structure an agenda with samples of agenda designs
The workshop will be held on Zoom video conferencing where you will experience how to host effective meetings virtually, including with small group conversations. You will receive several handouts full of resources and guidance to help you design and facilitate future meetings.
This webinar was a paid workshop, and was not recorded. Please visit New Directions Collaborative for other events.
---
March
Working in Collaborative Ways
This webinar was hosted by Beth Tener of New Directions Collaborative. Given the complex inter-related challenges our communities and organizations face, it is becoming imperative to work across disciplines, organizations, and cultures to develop workable solutions.This online workshop was built to increase understanding and skills participating in and leading collaborative work. Topics covered were:
Core personal and collective leadership qualities that support collaboration
What is means to practice "collective sensemaking"
How to enable people and groups to do their best thinking and experience the benefits of networked ways of working together
Several participatory methods that can also work on-line
This webinar was a paid workshop, and was not recorded. Please visit New Directions Collaborative for other events.
---
April 
Working as an Ecosystem
This webinar, hosted by Beth Tener of New Directions Collaborative, focused on activating the full potential within an organization by connecting often fragmented "parts" into a larger "whole". By engaging all parts of the system, you can achieve more collective strength and better solutions. We learned:
Principles of how systems work
Practical tools to help people "see the system" and make relationships visible
Participatory processes for how to connect and cross-pollinate the work and wisdom of diverse perspectives
How and why accessing and engaging marginalized voices is critical to this work
This webinar was a paid workshop, and was not recorded. Please visit New Directions Collaborative for other events.
---
May 
Indigenous New Hampshire Foodways & History
This webinar featured members of the Indigenous NH Collaborative Collective, a collaboration between the University of New Hampshire's Anthropology Department, Paul and Denise Pouliot of the Cowasuck Band of the Pennacook Abenaki People, historians, students and archeologists. This long-term project intends to reframe New Hampshire's history from an Indigenous perspective. We heard from Svetlana Peshkova of the collective about current projects and the story map, and gained a deeper understanding about Indigenous Food Ways from the Pouliot's,
Watch the full webinar below (for fullscreen, click to watch on Youtube):
---
June
The Creation of Local Agrarian Commons
In the next two decades alone, it's estimated that across the US, over 400 million acres of farmland will change ownership. The Agrarian Trust is a nonprofit organization that works tirelessly to ensure that tomorrow's farmers have access to this land, and that the opportunities to farm remain economically viable. 
Ian McSweeney, Director of the Agrarian Trust, talked about their exciting new project to create a local Agrarian Commons. The Agrarian Commons will purchase farmland and enter into fair long-term leases with new farmers, while protecting the land with easements and restrictions supporting ecologically restorative agricultural practices. A NH farmer himself, Ian understands the challenges of land ownership and has also previously served as the Executive Director of the Russell Foundation. 
Watch the full webinar below (for fullscreen, click to watch on Youtube):
All presentation slides can be viewed here.
---
July
Celebrate NH Eat Local Month
August is New Hampshire Eat Local Month, an month-long celebration of local food and food producers in the Granite State! This year's celebration is hosted by the NH Food Alliance, the NH Department of Agriculture, Markets, and Food, and the Monadnock Food Co-op. We have over 100 partners so far, with plenty of room for more. 
In this webinar, Samantha Cave (NH Food Alliance), Jen Risley (Monadnock Food Co-op), and Jessica Gorhan (Nashua Food Council, Gorhan Consulting) talked to our partners about the best tools and tips on spreading the "eat local" message. They also shared more information about the unique events happening this year, including the NH Eat Local Month scavenger hunt, a "Pledge $5" campaign, storytelling techniques, and the kick-off to a film festival that will spread around the state. 
 View the full presentation here, and watch the webinar below!
---
August
New Hampshire Fisheries & Marine Ecosystems
We heard from industry expert Andrea Tomlinson, and UNH marine fisheries specialist Dr. Gabriela Bradt. Andrea discussed the logistics involved in running a Community Supported Fishery and a Restaurant Supported Fishery and the importance of buying local fish. She also educated us on the current status of imported seafood and why it is important to buy local, indigenous fish in your community. Gabby discussed current issues regarding the future of NH Fisheries and the role aquaculture can/could play in sustaining NH Fisheries and local seafood access. She talked about her current research in developing a fishery and markets for an invasive crustacean species as a model for resiliency.
 View the full presentation here, and watch the webinar below!
---
September 
Food Waste Diversion 
We learned about the current status of composting organics in NH, and a look ahead to what the future may hold. We talked with Sarah McGraw and Jenny Humpshries of Mr. Fox Composting. Mr. Fox Composting has been in business for 10 years providing residential and commerical organics hauling as well as offering event services.
They talked about why their model works and how it is helping more Maine and New Hampshire communities divert organics from the landfill. Reagan Bissonnette of the Northeast Resource Recovery Association, provided an overview of the laws and regulations related to composting in New Hampshire—including pathways for composting meat and dairy—and discussed possible policy changes that could support more food waste reduction.  She also highlighted the NRRA's Yes in My Back Yard! program that encourages organics diversion at businesses, schools, and recycling centers in NH and beyond.
View the full presentation here, read the handout, and watch the webinar below!
---
October 
Fostering Resilient Food Systems in a Changing Climate
In this webinar, we heard from Chris Skoglund of the NH DES, who gave an overview of the current and projected changing climate patterns in New Hampshire and across the globe, and presented the various implications that will need to be addressed in order to foster and maintain resilient food systems locally. 
View the full presentation here and watch the webinar below!
---
November 
Farmer Adaptation and Resilience to the Climate Crisis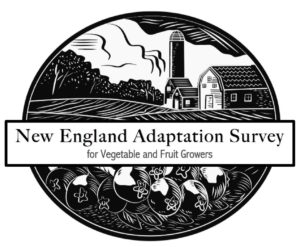 Projections for climate change in the Northeast forecast increasingly severe precipitation and drought patterns which pose heightened risk to agricultural production and cause crop loss. Alissa White, from the University of Vermont, presented her research from the New England Adaptation Survey which draws explores how fruit and vegetable farmers are adapting to increasingly extreme weather patterns and what resources they need to support farm resilience to climate change. The results of the research offer important insights for farmers and extension professionals who seek to support agricultural sustainability in the face of climate change. 
View the full presentation here and watch the webinar below!
---
December
Farmer Resources & Technology to Address the Climate Crisis
Erin Lane with the USDA Northeast Climate Hub shared resources for farmers and land managers adapting to climate change. Technical service providers, such as Land Grant Extension specialists, may want to integrate climate information with their production and conservation guidance. The USDA Northeast Climate Hub and their partners synthesize climate science with working lands management issues to discover solutions which build resilience. Erin highlighted several of the resources publically available including:
360 degree virtual tours of farms and forests
Climate adaptation curriculum for farmers, foresters and their advisors
Research briefs on recent relevant science
Tools for decision-support
Innovative methods for adaptation
View the full presentation here, the full chat (with links from the webinar) here, and watch the webinar below!